2017-10-12 10:05:00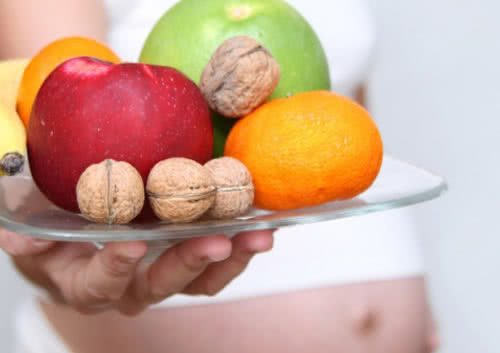 Nutrition management
Category:
Preparation for pregnancy
The woman bears responsibility for 2 lives the moment she gets pregnant. From now on, everything she does will affect the child. That's why regimen and ration require special care. Proper nutrition will maintain not only mother's health, but also her beauty.
Nutrition management
Woman's body changes over the course of 40 weeks. Pregnant often thinks about food. Her tastes and preferences might change. There's no need to eat for two for delivery to go well in Odessa. Quality of the food is what matters, not the quantity. Excess weight causes trouble for both woman and her child.
Some advice for prospective mother:
Do not fast. If hunger is bothering you, eat peach or carrot.
Variety. It is important to consume products of different composition, combining and complementing them.
Drink fresh fruit and vegetable juices. It's a great time to consider buying juicer, if it still hasn't been done.
Eat soups. It's a light dish that improves digestion.
Fermented milk products. They're a great source of calcium, tasty and improve digestion.
Meat. Low-fat and boiled is preferred.
Fish. It's a healthy and easy to digest food that enriches the body with phosphorus.
Eggs. They're a great source of protein. It's better to consume them in the morning, not more than 4 per week.
Vegetable oils. They're rich with active substances that mother and fetus need.
Minimize sugar and salt consumption. These spices lead to gaining weight and swelling.
Coffee. Woman can indulge in a cup of fragrant coffee if it's not strong, it's natural, and she has no issues with pressure.
Iron. It helps to maintain the required level of hemoglobin in blood.
It's hard but totally possible to come up with a menu for a pregnant woman.
Nutrition: advice for prospective mothers
Balanced nutrition is a very important component of well-being of prospective mother and her child. The body needs different products in different periods. Obstetrician Yryna Rudenko will help to solve every question.
Recommendations for different terms:
Weeks 1-2. Conception of a new life inside a woman. Eating fast-food, yoghurt and cheese is contraindicated. Fruit and vegetables are great. It's the right time to start taking folic acid. Exclude fatty and fried.
Weeks 3-5. Make sure your body gets enough calcium. It is contained in natural juices, green vegetables, broccoli and dairy.
Weeks 6-10. Pregnant gets to know what toxicosis is. She should eat what she wants, though not forgetting about harm caused by fried food, cabbage, sweets and wheat.
Weeks 11-12. Cravings of unusual food.
Weeks 13-16. Woman might start gaining weight rapidly, so an eye should be kept on that, Apples and kefir are highly advised.
Weeks 17-23. Cabbage, carrot and bell pepper should be introduced to the ration.
Weeks 24-28. Heartburn should be expected, as fetus is now big enough to pressure stomach. It's recommended to exclude soda, fatty and fried food.
Weeks 29-34. Do not eat sweets. Eggs, dairy, broccoli, salmon, nuts and yoghurt are advised.
Weeks 35-42. Body needs preparation to handle upcoming delivery well. Stewed vegetables should work out great.
During entire pregnancy, a woman should be cautious with chocolate, wheat, sausages, salt fish, beans, citrus plants, fruit and vegetables of bright colors. Exclude alcohol, soda, strong tea and coffee.
Every mother wants to give birth to a healthy baby and it's not that hard. If everything's done correctly, these 40 weeks will only bring joy to both mom and her child.